Event
Brazil Mission Trip in June
See a city transformed as you watch the Kingdom of God released through your hands!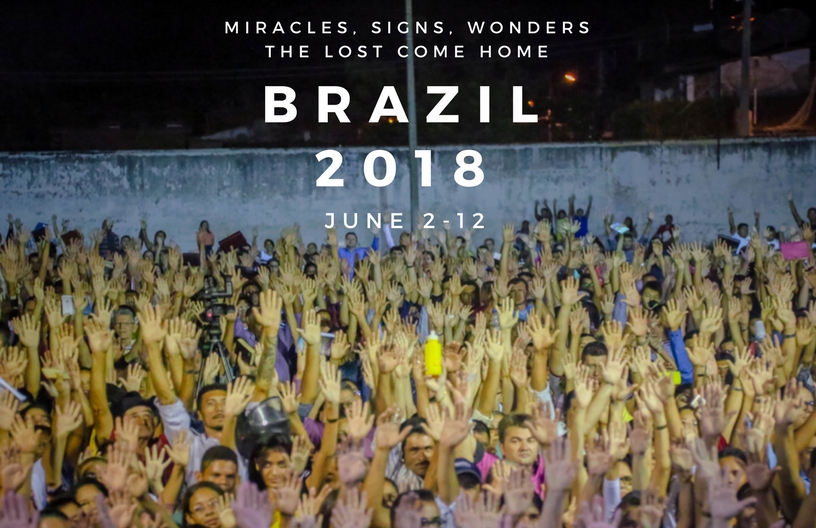 Join Kristen D'Arpa, Paul Rapley, and Dave Hauer on the trip of a lifetime, June 2-12, 2018, as we partner with Global Gospel Action to see a city come to Jesus! We will share the gospel openly in up to 6 public schools each day while training city-wide volunteers in the evening. We will also distribute food baskets and minister mercy to a local poor community, host a children's crusade and regional leaders meetings, all leading up to a 2 night miracle crusade where we will see the lost saved, the blind see, the deaf hear, and the oppressed set free!
Team members will have the opportunity to share their testimonies and preach the gospel in the public schools as well as endless opportunities to see the sick healed and the lost saved.
We typically see 1,000 -2,000 children and teens saved in the public schools and 8,000-12,000 attend the weekend miracle crusade.
No experience is necessary. Cost includes all flights, visas, housing, food, and transportation.
Cost: $3,500
Application and $350 downpayment due by March 11th,
50% Balance due by April 1st and remaining balance due May 1st.
For more information go to www.KristenDarpa.com/Brazil
---
Speaker Information
Kristen graduated from Bethel School of Supernatural Ministry in Redding, CA where she interned in the Prophetic Arts, and also from Iris Ministries' Harvest School of Missions in Mozambique, founded by Heidi Baker. Kristen has her undergraduate degrees in Cross-Cultural Missions & Third World Studies from Bethel University in St. Paul, MN.  Kristen is the founder of i Go Glocal, a mission minded resource and equipping organization, and is the creator of over nine books, including the Kingdom Culture School of Ministry manuals and curriculum. She travels teaching live taught Kingdom Culture Schools and is happy to call Minnesota her home where she is a part of The House Church family.

Paul Rapley is a ten year cancer-survivor who now has a passion to see others healed.

Paul studied and graduated from Bill Johnson's School of Ministry in Redding, California. He also has a Master's of Divinity from King's University (Jack Hayford's school); as well as a Bible and Theology degree from Crown College. Paul has taught at Teen Challenge's Ministry School in Minnesota, He is currently on staff as the Itinerant Healing Minister of a church near San Francisco, California. He has ministered in hundreds of healing services, with over 10,000 testimonies of physical conditions being healed by Jesus (as of 2014... now he has lost count). He has a tremendous passion to have the body of Christ empowered to minister healing as well as other gifts of the Spirit.